Mała rzecz, a cieszy. Tym bardziej, że niekoniecznie musi być mała! 
Mowa o pozornie niewielkiej zmianie, która może przynieść pozytywne efekty. Dlatego ciągła optymalizacja i udoskonalanie procesów to fundament dobrej strategii w rozwoju automatyzacji marketingu.
Ratowanie porzuconych koszyków to jedna z najpopularniejszych i najbardziej znanych kampanii marketing automation. Nic w tym dziwnego, ponieważ potrafi przynieść bardzo wymierne efekty i wesprzeć działania sprzedażowe bez zwiększania kosztów reklamowych.
Praca nad porzuconymi koszykami to nie zawsze wyłącznie wiadomość e-mail czy sms. Odpowiednio dobrana treść może również działać dla nas 24/7 nawet w przypadku komunikacji innymi kanałami.
Poniżej przykładowy efekt działania tzw. "kampanii on-site", czyli subtelnej informacji wyświetlanej na stronie sklepu, ale wyłącznie osobom, które wcześniej porzuciły swój koszyk i nie dokończyły transakcji.
Tak dobrana komunikacja kierowana jest tylko i wyłącznie do bezpośrednio zainteresowanych osób, które jeszcze wahają się nad zakupem.
Efekt? W październiku prezentuje się następująco:
Współczynnik konwersji w sklepie: 1,10%
Współczynnik konwersji osób objętych działaniem: 11,67%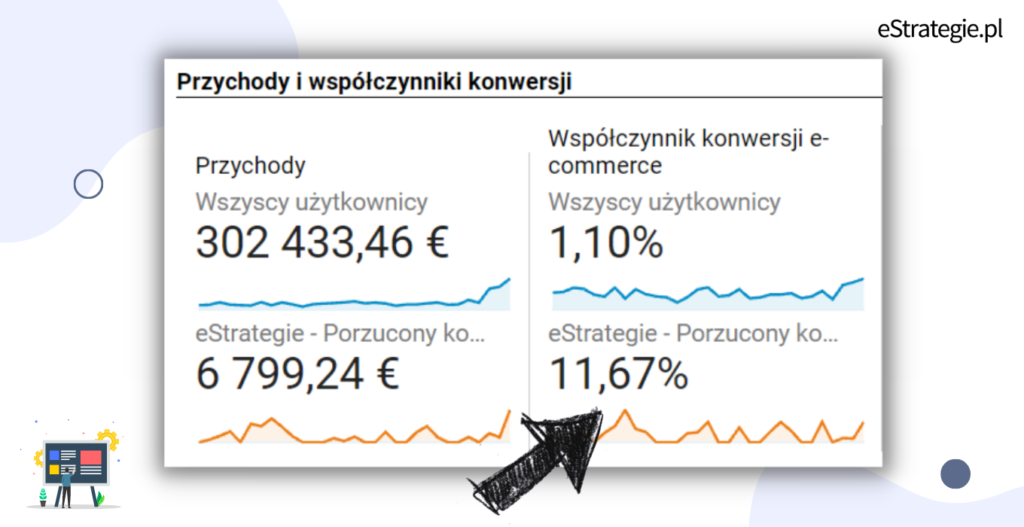 To dopiero pierwsza wersja kampanii, a prezentowane wyniki są za okres jednego miesiąca – lecz już teraz widać olbrzymi potencjał. Przed nami wiele testów oraz skalowanie działań na pozostałe segmenty i obszary, tak by maksymalnie wykorzystać ruch sprowadzany do sklepu.
Jeśli chcesz porozmawiać o tym, jaki potencjał leży w Twoim sklepie – zarezerwuj bezpłatną sesję strategiczną z naszym ekspertem.